Realise Your Vision With Exquisite Stone Benchtops In Melbourne
For the discerning connoisseur in pursuit of a stunning stone benchtop, we offer an array of enduring options. Each exquisitely crafted piece makes a profound statement, elevating the value of your home or development.
Why Choose Stone Benchtops?
Contemplating the merits of stone bench tops? Stone's sleek and elegant appearance can breathe new life into your home's decor. The embodiment of refined aesthetics, stone benchtops fuse timeless design and enduring resilience. It's no wonder many renovators aspire to use stone in their home design.
Marble Stone Benchtops
Experience the allure of MSM marble stone benchtops, bringing timeless elegance and contemporary style to any space. Our meticulously curated masterpieces promise durability to withstand daily use. Explore our exclusive selection of modern and classic options.
Granite Stone Benchtops
Discover the allure of granite stone benchtops, known for their high gloss finish and exceptional scratch and heat resistance. The elegant patterns, both bold and subtle, make a captivating statement that enhances any commercial or living space.
Dekton Stone Benchtops
Dekton benchtops are composed of a compact surface comprising 20 materials, including glass, quartz, and porcelain. Remarkably versatile, Dekton can be seamlessly employed in any application.
Porcelain Stone Benchtops
Renowned for its versatility, porcelain stands as an exceptional solution for splashbacks, interior cladding, barbecue areas, and benchtops. At MSM Stone, our premium porcelain benchtops not only present a cost-effective choice but also offer remarkable durability.
Neolith Stone Benchtops
Neolith emerges as a conscientious, environmentally-friendly solution, having undergone the sintering process to integrate multiple materials into a single, solid piece, and reducing material waste. Its versatility extends to various applications, including kitchen and bathroom benchtops.
Having trouble choosing between our surfaces? Read More about the different qualities of our stone and reconstituted stone products on our Blog page.
Frequently Asked Questions
Are stone benchtops worth it?
Although the initial investment may seem daunting, stone benchtops are made to be worn in. Stone benchtops are non-porous, scratch-resistant, hard-wearing, and built to last. The investment will add significant value to any home, business or space.
Which stone is best for kitchen benchtops?
Porcelain and granite. Porcelain is heatproof, and granite is one of the strongest benchtop materials.
Are stone benchtops heat resistant?
Stone benchtops are heat resistant but not heatproof. If you're looking for a heatproof option, have a look at MSM Stone's Porcelain range of benchtops.
Do stone benchtops stain?
Unless sealed correctly, stone benchtops will stain. Upon installation, MSM Stone will seal your stone benchtop for you. Every 2-5 years after this, the seal must be reapplied.
Can you put hot things on stone benchtops?
Stone benchtops are heat resistant. However, MSM Stone recommends avoiding putting hot things on your benchtop to ensure longevity.
Can you use bleach on stone benchtops?
No. Due to our stone benchtops being a natural material, using bleach to combat a stain will give the opposite of the desired result.
What are reconstituted stone benchtops?
Reconstituted benchtops are engineered stone benchtops made from crushed rocks and materials instead of whole slabs. Using reconstituted stone benchtops significantly reduces our carbon footprint, allowing us to continue to work with the environment's precious resources.
How to care for stone benchtops?
If you choose to seal your stone benchtop, be sure to reseal it every 2-5 years. Apart from this, stone benchtops need minimum care. It is imperative to avoid any harsh chemicals or abrasive and excessive scrubbing. When cleaning, use a damp sponge or cloth with a mild detergent, wiping down after each use or when needed.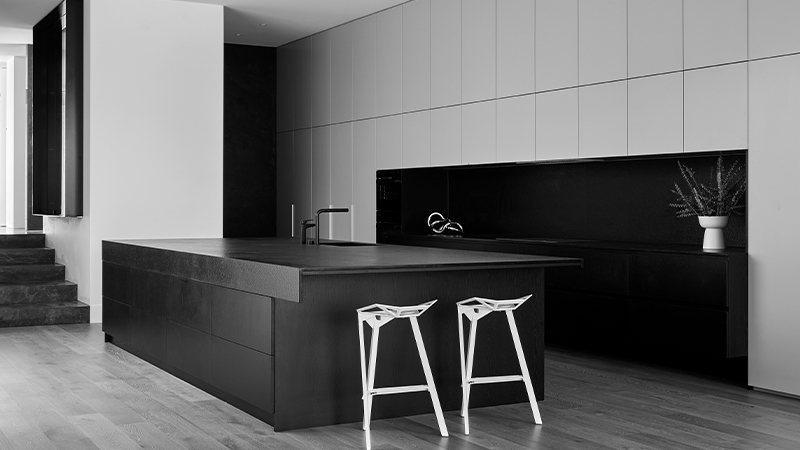 Tell Us About Your Project!
Working on your dream project or undertaking a renovation? We've got perfect stone solutions for all your needs. Get in touch today to discuss.